Message from Father Denis E. O'Brien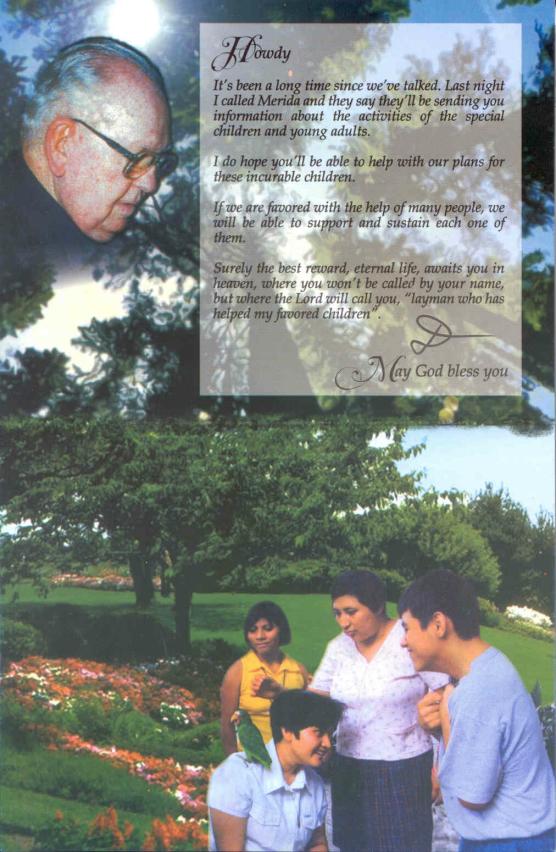 (Pastoral for the Destitute)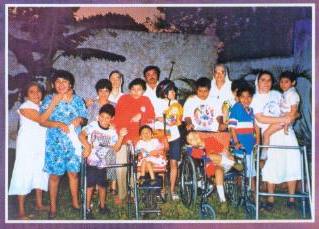 Who We Are
Our Mission is to promote, develop, sustain and provide a wide variety of activities to children and their families, especially those with little or no economical resources; to look for moral and spiritual support and to help with their integration into society.
Pastoral del Amor (Pastoral for the Destitute), is a Catholic, social, charitable and service oriented, laymen association. Its operation is with an enterprise-like culture, ruled by laymen and religious people, each having specific responsibilities.
Pastoral del Amor is crying for help, has made a plan with goals, and knows the way to reach them.
Fr. Denis O'Brien, M.M., of the Maryknoll Congregation in the United States, founded Pastoral Del Amor in 1983. He considered it necessary to found a "residence" for deficient and abandoned children without any relatives. This residence is called "San Jose.' He also organized a "Catechism" for these children in order that they may receive Holy Communion.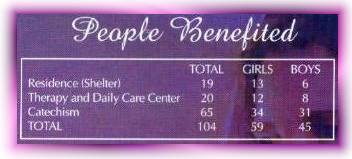 What We Do
Areas of Service
*Catechism: A basic fundamental program for retarded children and young adults. Classes are held every Saturday during the school year so they can learn enough to make their First Holy Communion. Some take one year, others five and others more. All the students enjoy the happy atmosphere and generally they learn more than they can demonstrate and express.
*Physic Therapy: A center that provides physical, medical and therapeutic attention, supervised by specialists that help the children and young adults in their recuperation.
*Residence (Shelter): We aim to give a home to the destitute children and young adults that are going to live in Pastoral del Amor until the end of their days.
*School for Parents: The program that we call "Parents to Parents" takes place while the children are in Catechism classes. During that time, the parents take courses about family integration; especially problems related to healthy and deficient children, conduct problems, pregnancy and hygiene, natural family planning, diet and nutrition, Catechism, First Aid and other interesting important topics. The group leaders are qualified persons in each area.
*Daily Care Center: This center is for severely mentally deficient children that have cerebral paralysis, autism, etc., and functions from Monday to Friday from 8 AM to Noon. We attend and give lunch to twenty children, who are not accepted in other schools because of their problematic behavior. We are the only one of this type in the state of Yucatan, Mexico. It is during these four hours that the families can get some rest.
Congregation of Sisters called:
Hermanas Concepcionistas al servicio de los pobres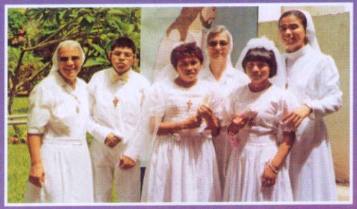 This Portuguese Congregation was founded fifty years ago and later established in Merida, Yucatan, Mexico in 1996. They are in charge of executing our programs. We consider them to be the soul of our association. Recently, they opened their Convent in Merida. We are so pleased because they are trying, along with the rest of us, to keep this association going for a long time. We are all working to see that Pastoral del Amor grows to benefit more people. They need more vocations and Sisters.
Project of Residence for Mentally Destitute Young Men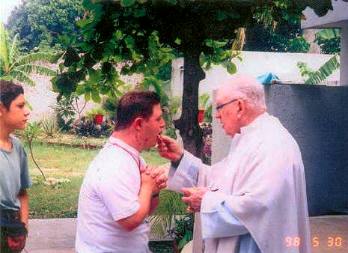 Fr. Denis E. O'Brien, M.M.
distributes Holy Communion to the young men
The new project beginning in 2006 is to have a residence for mentally destitute young men. We have started to work with the blessings of an Italian Congregation of Brothers and Priests called, "Hijos de la Immaculada Concepcion", whom will be in charge of this project and the young men.
As these mentally destitute young men age, their behavior can change as they become adult men, so it is no longer possible to have them with the children at Pastoral del Amor. We need men to attend them.
This home will function in accordance with the principals of Pastoral del Amor and the intentions of our founder, Fr. Denis E. O'Brien, M.M.
These young adult men will receive medical attention, therapy, and all that they need for life as well as programs for integration into society.
Our Urgent Necessities
*Construction of bedrooms and spaces for children and their caregivers.
*Auditorium for reunions and classes with space for at least 150 people.
*Roofed corridors between the buildings.
*An infirmary and space for rehabilitation of sick boys and girls.
*To enlarge the kitchen and dining room.
General Information
Name: Pastoral del Amor, A.C.
Address: Calle 53 #487 x 54-56 Centro C.P.
97000, Merida, Yucatan, Mexico
P.O. Box 425
Phone: (52 999) 927 0929/ (52 999) 924-5899
Please make checks and money orders payable to Pastoral del Amor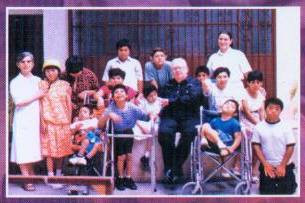 Fr. Denis O'Brien with his beloved children
The information on this page was taken from a brochure on
Pastoral del Amor. If you would like to donate to this worthy
cause, we have provided all the information you need to do so in
General Information
"The prayers of a special child are music to God's ears."
Fr. Denis O'Brien, M.M.
PDF
by: Nathanael Blake
American Life League