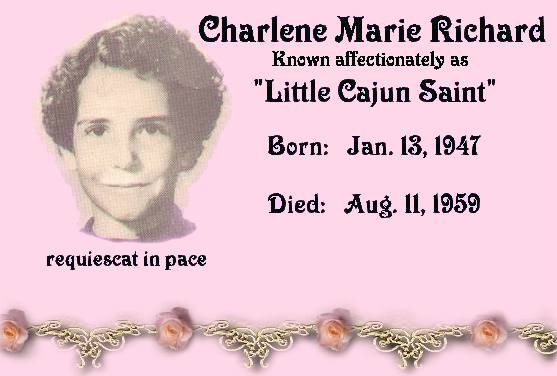 Charlene Richard Annual Memorial Mass
Father Wayne Duet, Pastor, served as the main celebrant and Deacon Tim Marcantel was the homilist.

The rosary was prayed at 5:30 PM, and a reception followed in the parish hall immediately after the Mass.

For more information, please contact the
Friends of Charlene Richard at:

P.O. Box 91623
Lafayette, LA 70509
<![endif]-->
Any updates will be posted in a timely manner

The story below about Charlene Marie Richard was taken from the book "Young Faces of Holiness: Modern Saints in Photos and Words", by Catholic author, Ann Ball.
Charlene Marie Richard
United States, 1947-1959
A Cajun Saint?
Mary Matte's surgery had left her in a great deal of pain. She was sleeping restlessly. She woke, feeling the small hands of her granddaughter Charlene rubbing ointment on the scar to dull the pain. "Hush, Mom Mom," the young girl said. "Go back to sleep and you will feel better."
Charlene Richard, a little Cajun girl, loved to be helpful. Her mother remembers that she would often get up after dinner and offer to clean the kitchen, telling her mother to rest on the couch. She would offer to wake her mother when she had finished the chore, and make a fresh pot of coffee for her.
Charlene lived a simple life in her rural home at Richard, Louisiana., in the Diocese of Lafayette. The people of Charlene's small community live simply but are strong in faith. After her death, they began to ask Charlene's intercession for help over the rough spots in their lives. Just as she liked to be helpful in life, in death she seems to shower favors on those who asked in humble faith. In the past 40 years, Charlene's name and story have spread far outside the boundaries of southwest Louisiana. Many are drawn to the great gift this young Cajun girl has to offer: the example of childlike faith shown by her acceptance of God's will in her life.
Charlene was born January 13, 1947, the second of ten children of Joseph Elvin and Mary Alice Richard. Joseph worked for the Louisiana State Highway Department and Mary Alice worked as a nurse's aid. The Richards are honest, hard-working, God-fearing people who lived in a small farming community in Acadia Parish. They cherish their Catholic faith and the traditions of their Cajun heritage.
As a baby, Charlene was tiny. She began to walk early, at the age of seven months. She liked to walk over to the kitchen windows and look outside. Even though the windows were low, Charlene had to stand on tiptoes to see outside.
When Charlene had just begun to talk well, about the age of two, her great aunt Ora came over. Her grandmother had made a new dress for her and told Charlene to get it and show it to Aunt Ora. Charlene jumped down from the rocker and brought the dress. Aunt Ora asked, "Why, Charlene, who is that pretty dress for?" Charlene didn't answer and just began rocking again, so her aunt repeated her question, "Who is that pretty dress for?" Surprisingly, with a twinkle in her eye, Charlene looked up and mimicked her aunt perfectly, saying, "Who is that pretty dress for?"
With the typical quiet humor of so many Cajuns, Charlene loved to "pick at" her friends and relatives. One summer evening when her Aunt Ora was spending the night, she got dressed for bed in a nylon gown that had developed a number of "wear and tear" holes in it. Charlene looked up and slyly said in French, "Oh honey, that's the gown!" Her older relatives would often speak in French to Charlene, but she didn't like to speak French so she would tell them "je n'est pas cajun!" (I'm not Cajun!)
The family always had pet cats and dogs and Charlene loved the animals. Many of the family photos show her with one of the pets. But she had no use for chickens and disliked being around them. When she was three or four, the family had gone to visit a cousin and his rooster attacked her sister Annie. Fortunately Annie covered her face with her hands because the rooster was making straight for her eyes. Cousin Boris took the rooster off and killed it, but Charlene never lost her fear of chickens.
In May of 1957, the family was living in Church Point, a town about seven miles from Richard where they later moved. Charlene made her First Communion when she was ten at Church Point. Her grandmother had made a special dress, trimmed with flowers and with a wreath of flowers crowning her veil. One Sunday that May, the family decided to drive over to Richard for Mass. Charlene was wearing her First Communion outfit. As they arrived, they noticed a large group of children outside the church. Without their knowledge, the priest had chosen that Sunday for the crowning of the Blessed Mother. To the family's surprise and Charlene's delight, the priest stood her at the front of the line and she was allowed to crown the statue of the Virgin.
The family moved to Richard when Charlene was in the fourth grade. Here, she was an avid sports enthusiast and played on the school softball and basketball teams. In sports as in her schoolwork, Charlene was competitive. She wanted to be "the best." In the summers, Charlene baked cookies, rode horses, and enjoyed playing with her friends who nicknamed her "Charlie Brown." Her family nickname was "Sue-sue." At St. Edwards's church, Charlene became an active member of the Junior Catholic Daughters.
During summer vacations, St. Edwards held a summer school program. Charlene and her brother John Dale especially enjoyed writing plays and acting them out with the other children. One summer they wrote a special play for their pastor in which John Dale played the priest and Charlene sang with a group of other children.
Charlene was close to all her brothers and sisters, especially her brother John Dale who was her idol. Her baby brother Gene was her Godchild. Gene was killed at the age of 19 in an auto accident. Today, his remains lie next to Charlene's in the St. Edward cemetery.
Charlene's grandparents lived next door, and Charlene loved her grandmother very much. She always wanted to spend the night at her grandmother's house. The Richard children were supposed to take turns for the treat of a night over at their grandparents' house, but Charlene would always fool her sister and promise her all sorts of things in order to get to take her place. Charlene was close to her "Mom Mom," and it was this grandmother who shaped and encouraged the spiritual development of the young girl
Charlene always stood up for the underdog. A certain little boy constantly picked on a little girl who lived near Charlene. One day, Charlene had had enough and she got all over the little boy. The school bus driver made her sit down and, telling her that he knew she wasn't normally mean, asked her why she had done that. "It isn't fair," Charlene said. "Why didn't you do something to him?"
.
Charlene had a strong love for Our Lady. When she was very young she had seen her grandmother praying the rosary and asked her to teach her the prayers. By the time she was seven, she made it a daily devotional. One year her religion teacher suggested that the children pray the rosary every day during May. Since Charlene already prayed the rosary each night, she decided to do something different. She got a small table and made a little altar for her room where she put a picture of Our Lady, a Crucifix and an old Bible. Each morning she went and got fresh flowers from the rose bush in the yard to decorate the altar.
After reading a book about St. Therese of Lisieux, she took it home to read to her grandmother. Then she asked her if she, too, could become a saint. "Yes, if you pray in the right way," was the reply.
Charlene's family was not wealthy, and although clean and comfortable their homes were modest without a lot of modern conveniences. One day Charlene visited the new home of a friend and came home much impressed, telling her mother how beautiful it was. "It was so beautiful, I know I will never live in a house like that." After thinking a while, she continued, "Oh, well, when I die, heaven will be prettier than that."
One of Charlene's brothers says that the children never knew they were poor because they had so much fun. Charlene and her brothers or her friend Lucille would go down to the bayou to look for clams. Often the family would go out in the woods near their house to cook fish, or dig a pit to cook spicy barbeque.
In the late spring of 1959, Charlene was in the back yard of her home, standing near the clothesline, when she came running into the house, pale and shaken "Mama, you won't believe this. I know you'll laugh at me but it really did happen," she said. Obviously the young girl had been frightened by something and her mother encouraged her to tell her what had happened. "Mama, I saw a lady, a tall lady dressed in black. She stopped me. I looked up and saw something shaped like a woman but I couldn't see her face. I was scared. When I asked her `In the name of God, what do you want?' she just sailed under the oak tree and disappeared." Her older brother John Dale remembers that Charlene was so frightened that she was shaking all over and their grandmother had to hold her to try to make it stop." The following day, Charlene and this brother were in the backyard emptying a tub of water when Charlene cried out, "Oh, I see her again." She never referred to the incidents again.
A few weeks later, Charlene became ill. Finally, she was diagnosed as suffering from acute lymphatic leukemia. She died just thirteen days after the diagnosis. During her last few days on earth, Charlene suffered terribly, although the doctors did what little they could to make her comfortable. Sister M. Theresita Crowley was the pediatric supervisor at the time Charlene entered Our Lady of Lourdes hospital in Lafayette. She remembers Charlene as a pious little girl. "Charlene suffered a great deal; it's the nature of the disease. The pain is awful and there is almost constant bleeding and hemorrhage but I remember her as a cheerful patient. She never complained." She continues, "Of all the beautiful, sick children I have tended to in my career as a nurse, Charlene stands out in a very special way. I learned a lot from Charlene, especially from her willingness to accept everything. Her life was full in a short span."
Nurse's reports show that at times the pain was so severe that Charlene asked for a shot to mitigate it. And her godmother says that for a short time she questioned, "why me?" Father Frank Bussieres was the pastor of St. Edwards during the time of Charlene's illness and death. He was the one who had to go to her and tell her that her illness was incurable. He says there is nothing sharp in his memory of this other than a general feeling of a very quiet acceptance of God's will on her part.
Father Joseph Brennan, the hospital chaplain who attended her during her final illness saw Charlene as a witness for people of all ages to the power of resignation and acceptance of God's Will. He says that Charlene wasn't different from other children her age in any way except that "when the crisis came in her life -- and it came very early -- she accepted it with faith and trust and love. "On his daily visits, he spoke with Charlene about offering her pain for others; Charlene asked him to suggest particular persons to offer her suffering for. She would say, "O.K., Father, who am I suffering for today?
One day Father Brennan was talking with her and told her, "Charlene, a Beautiful Lady is going to come to you one day soon and take you home." Charlene looked at him and said, "When she does, I'll say, "Blessed Mother, Father Brennan was asking for you."
The day before her death, she kissed the chaplain goodbye and told him that she would be praying for him from heaven. Speaking at a commemorative Mass in 1989, the thirtieth anniversary of Charlene's death, Father Brennan said, "Charlene taught us lessons in humility, acceptance, simplicity and faith. We have many books teaching us how to live. Charlene wrote the book on how to die."
Reprinted with permission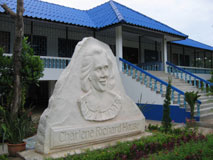 CHARLENE RICHARD MISSION HOUSE
This mission in Thialand cares for Orphans; some Buddhist and some Catholics. Rev. Shea and other Redemptorists first arrived in Thailand about 30 years ago to care for outcasts. The home was completed in April and is located along the Mekong River in Northeast Thailand. It has six bedrooms, a kitchen and recreation room. The stone monument in front of the house is of Charlene Marie Richard.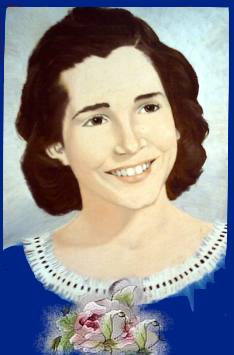 The Catholic Diocese of Lafayette, Louisiana sanctions "The Friends of Charlene". The "Friends of Charlene" is a private organization whose objective is to spread information concerning Charlene Marie Richard. For more information, write to:
Friends of Charlene association
P.O. Box 91623
Lafayette, Louisiana 70509-1623

Prayer for Charlene's Intercession
Charlene, when you were only twelve years old, you showed heroic faith, hope,
and love; dying of leukemia, you joined yourself to Jesus on His Cross and
offered your intense pain for others. You thereby echoed St. Paul's words to his
people in Colossians 1, 24: "Now I rejoice in my sufferings for your sake, and
in my flesh I am filling up what is lacking in the afflictions of Christ on behalf
of His Body, the Church.
Charlene, I believe you are with God. Please ask our Heavenly Father, His only
Begotten Son, Jesus Christ, and the Holy Spirit to grant me the following favor:
(mention favor sought)
Charlene, thank you for helping me. May Jesus Christ always be praised. May Mary, Jesus' Ever-Virgin Mother, always be called blessed.
Amen


Prayer for Beatification
Our Father in Heaven, moved by the Holy Spirit of Jesus Christ,
Your Son and our Savior, we lift up our hearts to You and ask that, if it be Your
will, You grant our request. May Your servant and native of Louisiana,
Charlene Marie Richard, be raised to sainthood by the Holy Father, Successor
of the Apostle St. Peter, and visible head of Jesus' Church on earth.
We trust this prayer to You through the intercession of the Blessed Virgin
Mary, the Mother of Jesus, under her title by which she is known as the
Patroness of Louisiana: The Immaculate Conception.
Our Father…Hail Mary…Glory Be…
(For private devotion only)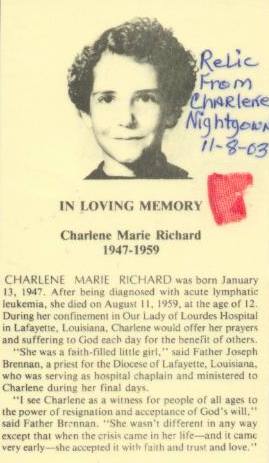 Mary Alice sent this card to me through my cousin
Charles Richard in 2003. She has written on the
card that it is a piece of Charlene's nightgown.
Thank you Mary Alice!
May you rest in peace with your beloved Charlene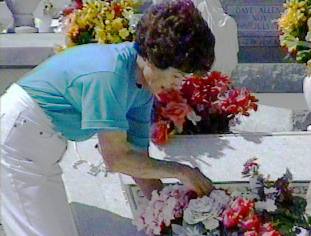 October 8, 1996
Margaret Richard Norris (my mother) arranges
flowers on Charlene's grave.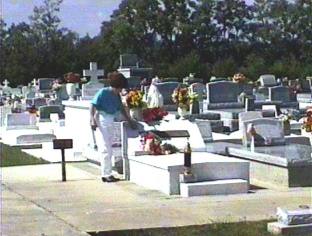 Margaret Richard Norris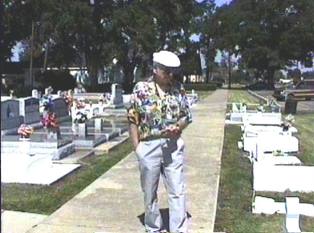 Henry Norris(my stepdad) walking through
the cemetary Charlene is buried in.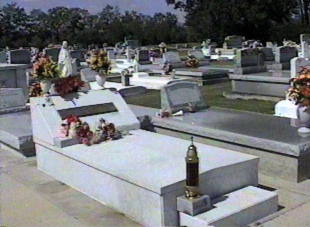 Charlene Marie Richard's grave
Photos taken by Henry and Margaret Richard Norris


Petitioning God through the intercession of Charlene Marie Richard
Petitioner: Marie Vasta, N.J.
I have asked for the intercession of Charlene Marie Richard for our Granddaughter Gianna Rose Pepe from Alabama ..She was born on December 8th , 2006 and was diagnosed a short time later with Coloboma...She would be legally blind in her right eye.
A short time later, her parents were told by Gianna's pediatrician to take her to a Pediatric Geneticist, who found that Gianna had a more serious disease that was rare.....Rubinstein-Taybi Syndrome(RTS)... This disease has a number of anomalies, both physical and internal, that affect growth and motor skill abilities & mental retardation.
This is when I started to ask for Charlene's intercession..
On the second visit to the Geneticist he
spoke to them at length about his findings from the previous blood work..that Gianna had an "extra rare" case of RTS .
It seems because of the unusual way Gianna's Chromosome #16 mutated during formation in utero (hers broke apart in one place then inverted and reattached itself...this means she still has a complete Chromosome #16, just not in the correct order it's supposed to be in as the body 'reads directions'....in the thousands of RTS cases that have been documented around the world, their Chromosome #16 breaks off and never reattaches as the body simply recycles it and they are left with a partial Chromosome, which means the body cannot read something that isn't there, causing the various genetic problems to occur i.e stunted growth, mental retardation, etc).
They were told that Gianna is only the third documented RTS diagnosis in the world where Chromosome #16 reattached itself. No further information was available regarding specifics of those other two children.
This means they really have to "wait and see" as Gianna grows how her body is going to be able to process her "out-of-order" Chromosome #16. Only time will tell. Only our Lord Jesus truly knows.
The Doctor also checked her knees and found they were not dislocated as many of the babies born with RTS are...Another blessing...
Gianna also had an appointment with the pediatric Cardiologist...and again good news... the

heart d

octor told them

after doing an EKG and ultrasound of Gianna's heart, that

all looked great and she has a heart with no genetic defects whatsoever.
All of these wonderful reports I feel are answer's from the direct results of my petition for little Charlene intercession...And I feel their may be more to come...
Also only recently..I have included 3 other children whose emails for Prayer Request I received recently.....
A 3 year old boy named Dominic has been diagnosed with a very rare form of stomach cancer....as of now there is no known cure as with Gianna...I started to lift him up for Charlene's Intercession on Feb 9, 2006.
A young girl named Candace, who has a mass in her leg ..
and was diagnosed with "gram positive cocci infection"
originating on the bone and spread throughout the soft tissue in her body..She is in and out of critical condition in the Hospital..
And a beautiful little baby boy named Robert Davis from GA.
He was born with some sort of defect that has him in excruciating pain ...he has lost his left lung entirely.
Marie Vasta
Update December 31, 2015
Gianna is now 10 and way past what they had hoped for her ..She is still very much a special needs child ..but her understanding is amazing and also she now speaks, walks & is in school , lear

n

ing much ..also the Nun feels she is ready to receive her first Holy Communion ... Miracle on top of Miracle !!!!
Blessings
Marie

Our Lady of Lourdes and St. Bernadette
Pray For Us